Was $49.95.
This ebook is on sale today,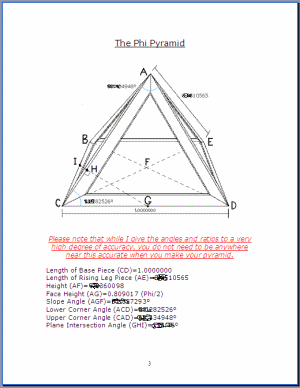 For those of you who have some basic carpentry skills and want to save some money, you can learn how to build my Deluxe Meditation Pyramid in the Giza, Equilateral, Nubian, or Russian pyramid dimensions. These Blueprints are geared for the average person who is not an expert in carpentry or woodworking, and are filled with over 250 charts, diagrams, and detailed pictures showing you each step in the process towards making your own, custom-built pyramid to any size you choose.
And I use simple language that everyone can understand--not technical terms that can be intimidating or confusing. The only two electrical tools that are required are a drill and a circular saw. If you know how to use a circular saw, then you should be able to make one of these pyramids. Also, for those who are skilled in woodworking, I have a section in my Plans giving concise instructions with detailed diagrams on how to build both styles of pyramids.
You will also need some basic carpentry tools like a tape measure, a speed square, a yardstick, and some clamps. A sander would be nice, but not absolutely necessary. There are also a few specialty items, like this Forstner bit and this digital protractor, that you can get which will greatly improve the accuracy of your cuts. I have scoured the internet to find you the best deals for any specialty items you should get, as well as things like dowel pins and the best wood glue to use and the cheapest place to get them.​
These Plans have been recently revised and renovated to make every step as clear and easy as possible. They are now able to be used by people who use both the English and the metric system of measurements. You don't need to be an accomplished woodworker to follow these Plans, and you don't even need to be good at mathematics!
This would make a great father/son project!
(Or a great mother/daughter project!)
The sacred number phi (1.618034), which is integrated into many aspects of nature--as well as many ancient monuments--is used in order to calculate the angles that make the Giza (51.83º), Nubian (72º), and Russian (76.345º) dimensions. But you don't have to do any calculations at all, as I have charts for helping you to determine the lengths and angles of each piece you need to cut, based on what size pyramid you wish to build.
There are some things that you need to have in order to successfully build one of my pyramids: You have to have a good eye for detail. You have to be patient, and not rush things or cut corners. My instructions are detailed, and as long as you follow them as closely as possible, you should be able to build one. I am confident that even if you don't know anything about carpentry, that as long as you can learn how to safely use a circular saw, you should be able to make one of my pyramids. My Pyramid Plans are filled with tips and tricks that I have learned from building my pyramids for over 15 years to help make things easier for you.
The three things you will need to successfully build a pyramid is an eye for detail, patience, and perseverance. It doesn't matter if you are male or female, or how old you might be. If you have no experience whatsoever working with wood and are uncertain of your abilities, then I would suggest finding someone to teach you how to use a circular saw. If you can learn how to use one, then there should be nothing to stop you. And if you should get stuck at any point along the way, I am here to answer any questions that you might have. And remember, I will return your money if you try and can't make one.
Was $49.95.
This ebook is on sale today,
For only $29.95!
Over 40% off.
Save $20 if you buy today!
If you don't want to pay with Paypal, after clicking the "Buy Now" button above, look for the "Pay with Debit or Credit Card" link at the bottom of the order page.
My 100% Money Back Guarantee: If you tried to build a Deluxe Giza Pyramid following my blueprints and found that you were not able to do so--even with my help--then I will refund your money within 60 days of your purchase.
Downloadable immediately upon purchase as a Microsoft Word Document.
Also available as a pdf file. Please ask.
As an added bonus, if you buy today, I will also include, free of charge, step-by-step detailed instructions on how to easily make cardboard and plywood pyramids in the Giza, Equilateral, Nubian, and Russian dimensions!
Having problems or questions with your order? Contact me.
Would you rather purchase the book?
Now, it is in paperback form, in the same format as the digital version, with more than 250 pictures, charts and diagrams over 213 pages for only $39.95 plus shipping. Plus, after purchasing, you will be able to immediately download the digital version for free!
Here are some of the pages inside my book:
Here are some unsolicited testimonials I have received by my customers for my Pyramid Blueprints...
...and also, what an awesome product you offer! I tried to start building a pyramid myself and hit a brick wall almost immediately. I had a vision that I needed to build a pyramid and now I have found your website and purchased your plans I am very very excited. Thanks again Craig, your plans are so detailed with great pictures I should be able to sail through them.
Regards,
~Brad from Australia.
~~~~~~~~
Thanks Craig,
I am IMPRESSED!
Everything you have done deserves 5 stars! The fantastic and meaninful product/concept you chose to market, your website, your information, your clear and professional plans and your superfast after-sales service. Much appreciated in this era of "no-care about you but only your money" attitude. You give so much for so little.
Thank you!
Kindest regards,
Amelia, from Santa Ovaia, Portugal
~~~~~~~~
Now the challenge is to build a pyramid from your plans. My tools are limited and mitre cuts are very challenging with what I have. I would buy a kit if I have the extra money to do that.
I really like the way you have cut and put the pieces together. This far better, acurate and more detailed than what Patrick Flanagan wrote in his book and with his work on the correct dimensions of the pyramids.
Talk to you again,
~Rob T.
~~~~~~~~
Hi Craig,
Thank you so much for answering back, and for the plans. They came through perfectly.
Making this pyramid is a Christmas present for our son. He plans to use it for meditation, and has been waiting since Christmas for us to finish it. We bought the wood and thought we could figure out the cuts on our own, but its very apparent that they are more precise and not as easy as we thought. We have a much greater appreciation for the ancient Egyptians now!
Thank you again,
~Vicki T.
~~~~~~~~
I want to thank you. I am a fine woodworker and have been experimenting on making pyramids for a while now. In a moment of complete frustration, I ran across your site and did something I very rarely do, pay someone I do not know for their knowledge.
About a week ago, I downloaded your plans, used your info, and just completed my first pyramid. So I thank you...
...At any rate, thank you again. My hours of trial and error, or more accurately frustration, are over.
Be well.
~Steve
Would you rather just make a cardboard or plywood pyramid?
The digital version is
Only $9.95!